A Brief History Of Money
Money is a rather strange concept if you think about it.
It's value is entirely imaginary – determined entirely by our perception and the significance we attach to it. It isn't important to a sage or a hermit, but it means the world to most other people. It drives national (and global economies) – and it wouldn't be inaccurate to say – is the biggest religion in the world. You'd find more loyal followers behind money than arguably any standard theist religions.
Most global decisions today are dictated more by their economic impact and financial consequences than any moral or ethical perspectives.
Countries go to war for oil (and the money it may generate), and countries choose NOT to go to war for fear of the economic damage it may bring.

Vaccines that can save lives are abandoned if they are not feasible or too expensive to produce, but larger amounts are spent in treatment for the same health issues by thousands of people.
Money drives the world. The one true religion, one who's existence and signifiance is beyond debate. Radical religious fundamentalists may strive to create terror against one another – but all of them ultimately rely on the same medium to achieve their goals – money.
It's important to understand money in detail before we study most aspects of human culture, since it is to interwined with everything else. Let's dive in.
What Is Money?
Money an intermediary – a medium of exchange that facilities and greatly simplifies trade. Money as we know it, has come through a long and chequered past to its present form – with a history nearly as old as civilization itself. It serves 3 primary functions:
It acts as a store of value: It represents some 'worth' – which can be stored, and accessed whenever you need it. If you were to head to an ATM, you're entirely free to withdraw your own money.

It is a medium of exchange: It allows you to trade items or services. Using money, you can convert your land to cars, job hours to smartphones, and your investments into education for your children.

It is a measure of value: Money is a standard measure using which you assign a value to nearly everything the economy has. From good to services, they're all valued using money.
Money also has certain important properties:
Value stability: 100 units in your currency should be able to buy you the same quantities of items today and tomorrow. If there's too much fluctuation (inflation or deflation), we have a problem.

Durability: Your money should last long. It cannot exist for a single (or few) transaction(s).

Portability: If we were still using only gold coins instead of paper money, imagine the truckloads the rich folks would have to carry to make a large payment. Money needs to be portable and easily transported – like the notes and plastic cards we use now.

Fungibility: The units of money should be able to be substituted by other units – that is, all money in your currency should be equal. 500 units of your money in your currency should hold the same value as 500 units of your neighbour's money in the same currency.

Cognizability: the value of your money should be easily identifiable.
Over time, money has evolved to serve these functions better, and exhibit these properties better. From informal understandings to e-money and cryptocurrencies, here's what money has been through.
The Evolution Of Money
Pre-money period
There is evidence to suggest that during pre-historic times, when people hadn't 'settled' at once place yet and roamed the land in packs, hunting prey and gathering food – communities shared food and held all resources in common. This offered security for individuals as they could fall back on the community during lean periods and tough times. Thus, a form of socialism seems to have been in practice then.

As people settled and learnt to domesticate animals and raise crops, the concept of personal property emerged. Since everyone subsisted on plants and animals for food, these articles had universal value and were traded between people for other goods like clothing and tools.

Once food was sufficient and people didn't have to worry about having enough food, other vocations emerged and started to thrive. By this time, not everyone had utility for grains, vegetables or animals.

Once their needs were fulfilled, people had to resort to bartering to acquire specialised goods as lumber, agricultural implements, animal hides etc.
Further, since plant products are perishable and it's unwieldy to trade, most plant products and animals, salt, animal pelts, shells, cocoa and other easily portable and non perishable goods started becoming stores of value.
Yet, there wasn't any universal store of value that could be exchanged for just about anything and prices of these proto-currencies were subject to negotiation. Bartering wasn't easy – imagine having to give away your clothes to buy some milk – and then being told by the milk-seller that he's in no mood for clothes today.

Money thus far was not durable (you couldn't use the clothes for payment once you'd bartered them), nor was it portable (you couldn't carry a sackload of clothes, or anything else around as easily). It also wasn't fungible – there were no individual units of money in the first place. And it certainly wasn't cognizable – the value of your items were a matter of debate with the buyer.
All that was about to change with the discovery of metals.
Commodity money
Coinage – The age of metals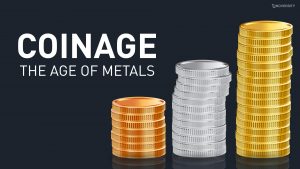 As people discovered metals like iron, copper, gold and silver and their utility as utensils and tools, metals became much more valuable than livestock and plant food.
-The divisibility, portability and durability of metals made them ideal as mediums of exchange and stores of value
These metals could be traded for any item – and they were a lot smaller and easier to store.
Initially the metals were denominated in terms of their weight, against a set standard equivalent to a fixed number of food grains. This measure was called Shekel. Bronze ingots came to be used widely by people as money. Eventually, other metals such as Gold and Silver started being used as currencies. This was partly because gold and silver were considered to have mystical connections with the Sun and the Moon.
Later, thanks to progress in metallurgy, metal slabs were fashioned into coins. Trade in commodity money flourished and ushered in an era of greater trade and economic prosperity. But even then, there was the problem of less pure alloys being passed off or exchanged at the same rate as coins with a higher content of metal.
So fungibility remained an unsolved problem.
This was resolved by the invention of the touch stone, which could assess metal content in an alloy or an ore. The purity of the coins was certified by stamping the coins with the insignia of the issuer. The standardisation of weights and purity paved the way for seamless trade in metals.
Empire-backed Gold
For many centuries, until the late thirteenth or fourteenth century AD, silver was considered more valuable than gold, although silver loses its sheen over time. It was only from the 14th century that gold started gaining on silver as a store of value.
Regimes began outlawing minting by citizens, reserving the right to themselves. People had to buy coins from the ruler in exchange for metals or goods in kind. The concept of seigniorage came about at this point. People had to pay much more for a coin over its face value, that is, the value of the metal it contained. Sounds familiar? This is exactly what we do our money today.
This brought in revenues for kingdoms and the value of metal coins came to be delinked from the inherent value of the metal contained in it. Thus, coins started trading for much more than what they were really worth. Kingdoms asserted that money derived its value from state endorsement and not from the metal in the coins – another principle we have have taken into today's time.
Representative money
The advent of paper money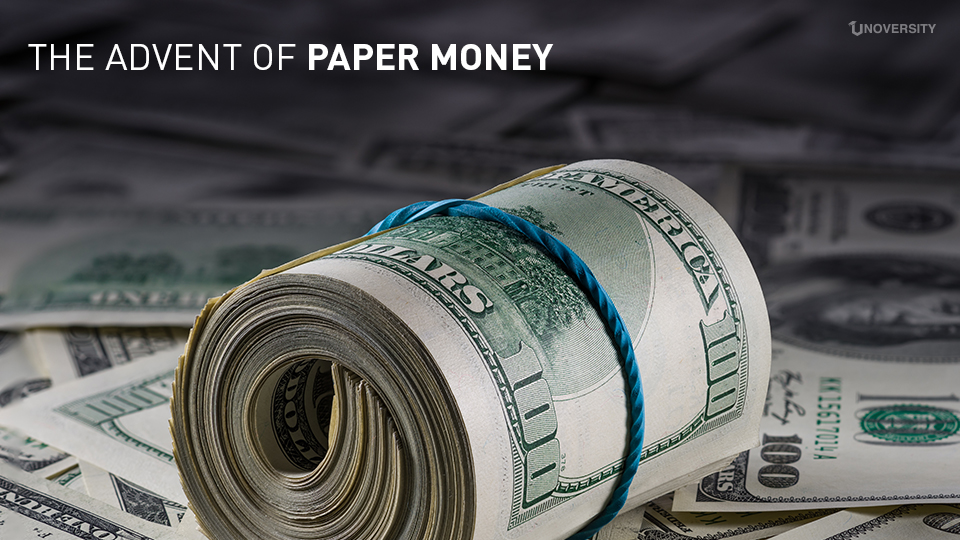 Portability so far had remained an issue – since carrying an awful lot of coins around wasn't really convenient.
While Europe and other parts of the civilised world used metals as currency, China pioneered the use of paper to represent ownership of metal. Back in 10th century China, bronze coins with a square hole in the centre were used as money. The square holes enabled coins to be strung together. As the rich found it cumbersome to carry their coins along, the ruling dynasty issued papers attesting to the wealth of the holder.
In Europe, until the 13th century, people were oblivious to paper money till Marco Polo and other European explorers brought information of the Chinese system. As trade and commerce grew and the wealth of individuals increased, people started keeping their coins in the custody of goldsmiths who gave them certificates of ownership.

Later on, these certificates came to be exchanged as representative money, standing in for commodity money as proof of ownership. In the 16th century, banks started issuing banknotes to clients. Coins were still used as money but large transactions could be conducted easily with banknotes.
Until the 19th century, banks and goldsmiths issued their own notes and multiple notes were used in different parts of a country. There was no common currency until countries started establishing central banks with exclusive rights to create money. People, banks and the government had to pledge Gold with the central bank to receive money.
Thus, the gold standard was adopted as the medium of exchange. Money was a representation of gold – you could redeem gold against money with the central bank. This system of representative money lasted until 1971, when United States president Richard Nixon delinked money from gold.
Fiat money
Until 1971, the US dollar was pegged against Gold and all other currencies were valued relative to the US dollar since World War II.
What does this mean? It means that the US government could only print money in proportion to the amount of gold it stored in its treasury.
As gold reserves couldn't keep pace with the rate of economic growth and more money had to be printed, President Nixon announced the end of representative money in 1971. Henceforth, the dollar wouldn't be backed by any underlying commodity, but by state fiat. The central bank was vested with exclusive powers of money creation and distribution. The purchasing power of unit money came to be decided by market forces, bearing correlation to the size of a country's economy and the amount of money in circulation. Thus, fiat currencies have free floating values, purely decided by market forces. Exchange rates between currencies is also determined by market forces, though central banks can and do manipulate currency exchange values to gain an advantage in international trade. For example, China devalues its currency to promote exports.
The central bank issues money to the government in exchange for treasury bonds. Banks can borrow money from central banks too, though they have to return it with interest unlike governments. Thus, fiat money is a form of debt given out by the central bank.
Banks also follow the practice of fractional reserve lending, where they lend much more money than they hold in reserve.
Fractional reserve banking is what creates 'new money' in our economies. Indiscriminate lending by banks to economically unproductive sectors like real estate and financial corporations have resulted in economic bubbles and global recessions periodically since the introduction of fiat money. Also, fiscal mismanagement has resulted in economies witnessing hyperinflation and loss of productivity.
While money may have evolved considerably, clearly, it still had its set of issues.
E-money
E-money or electronic money came into existence thanks to the internet. It is how most of our money is actually stored today. Fiat money can be electronically transferred using a range of payment services and banks now.
But these systems aren't foolproof or fully secure – as evidenced by hacks into security protocols and theft of funds. Also, such services charge transaction fees and have been misused by oppressive regimes to persecute people by freezing accounts and fund transfers. Imagine living in a dictatorial regime which takes away your money without you being able to do anything about it! Such setups can be coerced to bend to authority because of their centralised nature.
Following the 2008 global recession precipitated by banks, the federal reserve – the central bank of the United States announced a massive stimulus package for banks to increase the amount of circulating money in an attempt to revive the economy. This infuriated a lot of people as the very institutions responsible for the suffering were seen to be rewarded. This 'centralised' control on money by national governments was making many people understandably upset.
A year later, the first cryptocurrency came into existence, created by a pseudonymous entity by the name of Satoshi Nakamoto (who deserves a post of his own here). It was called Bitcoin.
Cryptocurrencies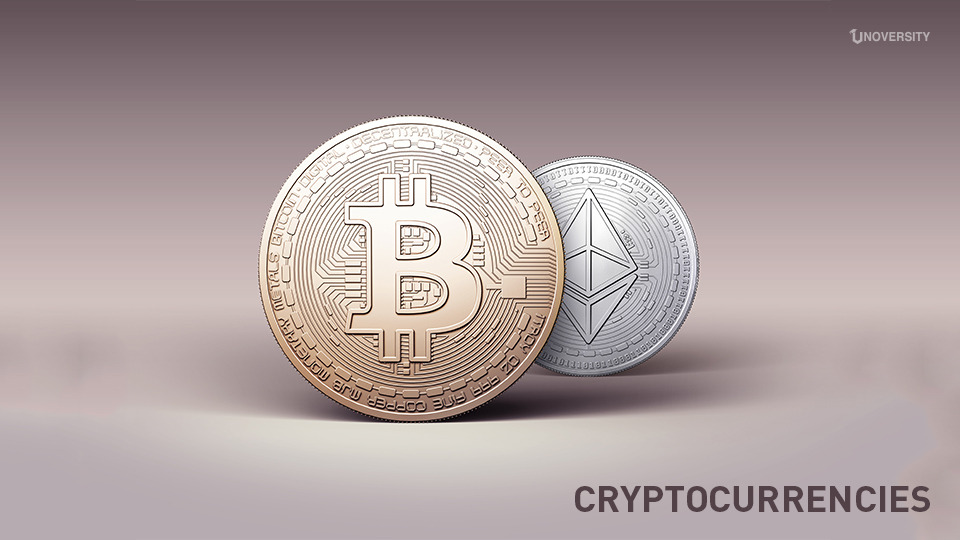 As a solution to this centralised control on currency, Satoshi Nakamoto created a decentralised, peer to peer digital token called Bitcoin. It employed cryptography to create a public ledger of transactions called the blockchain. This ledger would be tamper proof, thanks to the cryptographic tools used to create an immutable record. A number of transaction records are grouped together to form a block, which goes into the ledger and is linked to the preceding block creating a chain – the blockchain.
No central authority has control over the value transfer protocol. It makes no economic sense to tamper with the system as costs are prohibitively high. Since this is a decentralised form of money not under government control, some states are opposed to the currency while some others are yet to reach a decision on these crypto-assets.
Since Bitcoin, over a thousand other cryptocurrencies have been launched. Public reception for Bitcoin appears to be very positive, as evidenced by an astronomical rise in value, and many believe it to be the future of money. We delve into the details of how cryptocurrencies work in a separate post here.
As tech developments have changed and are changing the face of the world beyond recognition, it is only befitting that money evolves too, keeping pace with progress. While the future is unpredictable, it sure looks exciting.